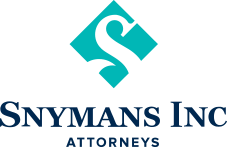 Flow Partners: Snymans Incorporated
Your trusted partner in property transfers
Providing unparalleled levels of service
We specialise in day-to-day conveyancing and property development
We make it our business to create lasting relationships with our clients
The conveyancing process is complex and having the correct advice and assistance is essential to ensuring a smooth transaction with no hidden surprises.
At Snymans, we believe that having a Conveyancer handle your matter shouldn't just be a legal requirement, it should add real value to the process.
Snymans offers clients a depth of expertise and knowledge not readily available elsewhere.
Start your journey with us in just a few clicks
SUBMIT YOUR INFO
Enter your details and click submit
GET FEEDBACK
A friendly representative will call you to discuss your requirements
GET EXCEPTIONAL SERVICE
Get expert conveyancing services for your property sale or buying needs
Why choose Snymans Incorporated?
We've been Conveyancing specialists for 25 years
The Snymans difference lies in the close relationship we maintain with our clients and our total involvement in their legal affairs.
We recognises that property transactions are not just about legalities but also about people and their dreams.
Our experienced team is committed to providing unparalleled levels of service excellence, and we look forward to building a lasting and trusted relationship with you.
"We would like to express our heartfelt appreciation of the welcoming, excellent and professional service we have received from your whole team. We definitely know where to turn for our future business and transfers."