Attracting qualified seller leads through keeping Seeff KZN brand Top-Of-Mind
Objective
Having traded for over half a century, Seeff has grown from a small, family-owned business to become the most established Real Estate brand in Southern Africa. Always looking to innovate, Seeff mandated Flow to test if we could generate seller leads for their 11 KZN offices, and prove that we can create brand recall.
30%
lift in organic traffic to Seeff nationally
R20m+
worth of mandate signed
Solution
A brand campaign was launched with ads for all 11 Seeff KZN offices, targeting residents within a 5-10km radius and reaching them with consistent relevance at a frequency of 3 x per month. Through the right frequency and targeting, this campaign saw an increase in brand consideration, resulting in a 30% lift in organic traffic to Seeff nationally. A seller campaign was also implemented for each Seeff office, with area expert ads highlighting the benefits of each branch along with a strong call to action. This campaign generated 54 seller leads, and resulted in over R20m worth of mandate signed.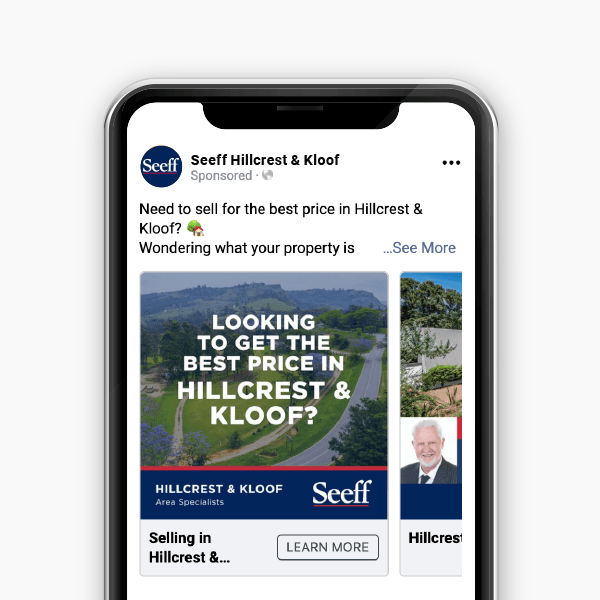 Products used
FlowBrand
Reach & Awareness ads
FlowFuel
Seller Lead ads
Branded Lead Page
Exclusively showing your listings and brand
Audience Building
Flow Facebook base
Instant Lead Alerts
SMS & email notifications straight to your phone
"Flow delivered the perfect solution for our KZN licensees, who, as a region were looking for a way to create brand awareness and also generate leads. The agile nature of the platform to create a customized campaign for each local licensee while retaining overall brand consistency was a significant advantage. Importantly, the campaign delivered impressive results for all our licensees across the region. The dynamically responsive and automated nature of the Flow AI created significant ROI for the region and in a short time-frame."
Ted Frazer
Seeff National Marketing Manager
Want to see how Flow can help you find quality
buyers

and

tenants

, introduce you to landlords or sell your properties?Book a demo